Despues de una semana dándole vueltas por aquí y por allá, arreglando fallitos y, sobre todo, aprendiendo mucho, he quedado satisfecho con el resultado: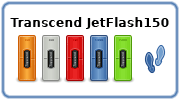 http://rick.jinlabs.com;/tango/transcend-jetflash-150/transcend-jetflash-150.rar;Transcend JetFlash 150;
Thanks to cornelius and all the #Tango people on freenode.net!

Update (200706/05): Fixed few glitches in small sizes. Thanks again to cornelius. Also changed names acording name spec.